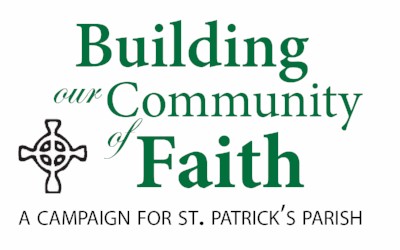 Our Needs
The Building Our Community of Faith campaign is the next step toward putting St. Patrick's Parish on a more firm financial footing by helping to eliminate the debt associated with the construction of the Archbishop Bergan Catholic Elementary School and by replenishing our line of credit which will in turn provide the Parish with more options if presented with cash flow issues in the future. Through previous campaign efforts, our Parish did remarkable work to raise the majority of funds for the brick and mortar portion of the elementary school building project. Now we must turn our attention to retiring the remaining debt left over from start-up costs, furnishings and interest.
The Facts
Through the Living the Faith campaign in 2007, the Parish raised $4.2 million toward the $6.1 million cost of building the Archbishop Bergan Catholic Elementary School. In addition to the debt remaining from the construction of the school building, we have $1,245,000 million of debt which was secured in 2010 to help pay off operation deficits accrued before that point. The Building Our Community of Faith capital campaign is designed to decrease $6 million of debt the Parish currently has.
Our Future
We are embarking on the Building Our Community of Faith campaign to retire as much of our debt as possible. By eliminating our debt, we will help lower payments on our loan and build up a reserve fund so future funds can be used for:
• Tuition assistance
• Academic programs
• Expanding ministries
• Renovation projects
Campaign Goals
We have established a 3-tiered goal for the Building Our Community of Faith Capital Campaign. Following their Feasibility Study, representatives from the Steier Group reported that we could raise between $1.8 to $2.8 million if we did a capital campaign for debt with a three-year pledge period. We believe we can raise the $1.8 million, but we also believe that with the support of the entire St. Patrick's Parish family, we can raise much more.
Celebration Goal: $2 million
Challenge Goal: $2.5 million
Pinnacle Goal: $3 million
How much has been pledged so far?
We have met our Challenge Goal and currently have a little over $2.5 millon pledged.
You Can Help
As you prayerfully consider your support of this campaign, we hope you will reflect on what St. Patrick's Parish means to you. Ask yourself, "If not me….then who?"
Your support of this campaign will help us to:
• Secure the financial future of our Parish and school
• Put Archbishop Bergan Catholic School in position to expand its programming
• Ensure future generations have access to the best Catholic education possible
• Ensure the faith formation of our youth, which has far reaching effect on our community for generations to come