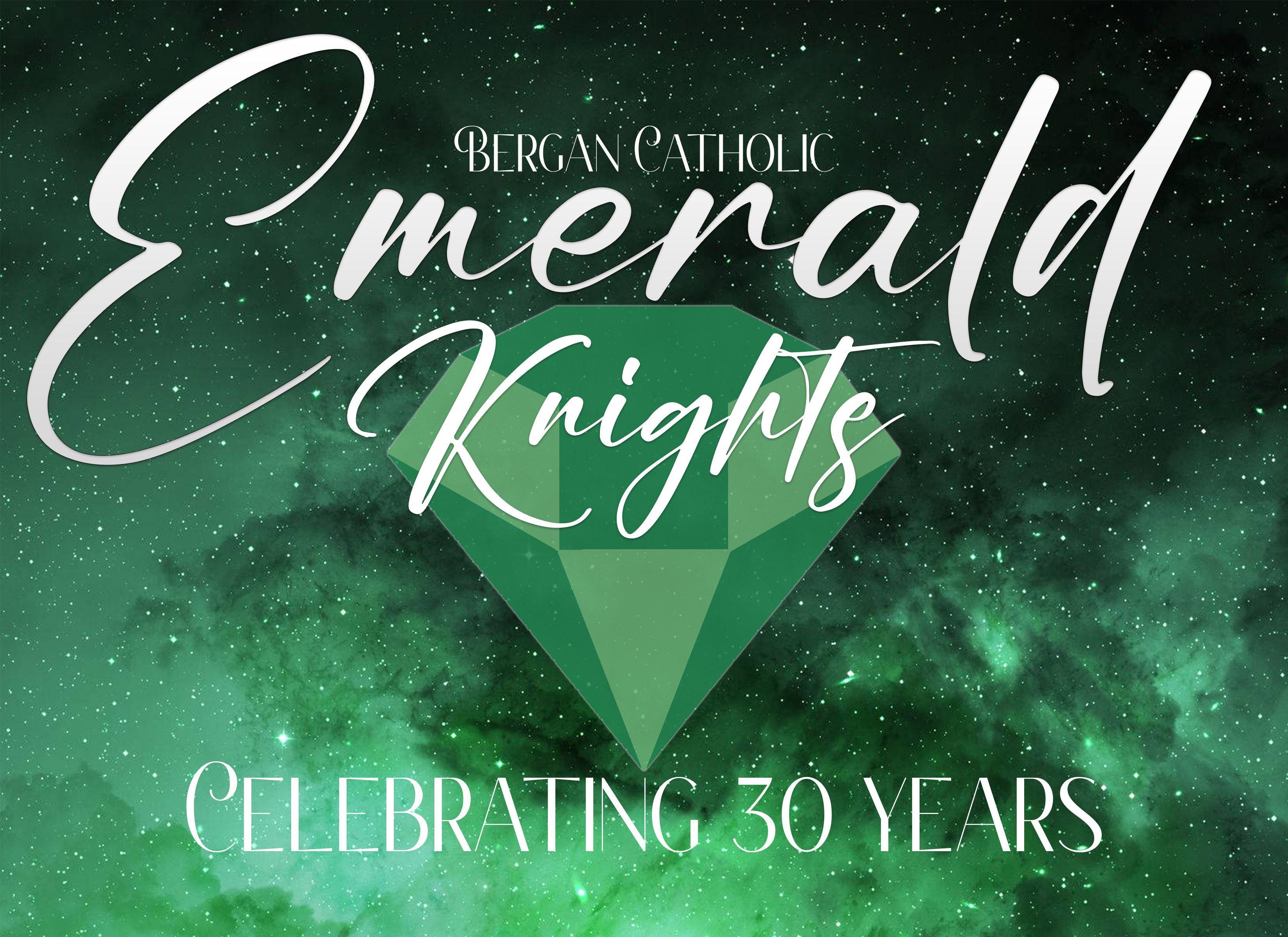 We would like to personally invite you to participate in the success of our 30th Annual Knight Event, "EMERALD KNIGHTS", the largest fundraiser for Bergan Catholic School, which will be held on Friday, November 17, 2023. Guests will be treated to memorable fellowship, quality spirits, auction bidding, and more.
An option again this year is to become a Community Partner of Bergan Catholic School. Our Community Partnership options allow businesses to partner with Bergan Catholic school in all areas, Booster Club, Bergan Fund, and the Knight Event. Businesses big and small are continually looking for ways to be noticed among their competition.  Our community partnership program will give your business the opportunity to be a strategic partner of our Bergan family.  
Note: To guarantee inclusion in the auction catalog, all cash donations need to be received by Bergan Catholic School no later than Monday, October 2, 2023.  If you choose a level that includes an ad, please have your business' updated ad to the Underwriting Committee, no later than Monday, October 9, 2023.  If you have any questions, please contact Underwriting Committee Chair, Melissa Hapke at bhapke@neb.rr.com. 
Have an auction item you'd like to donate? Contact our Auction Committees:
Silent Auction Co-Chairs - Amy Cone (amycone@gmail.com) or Christina Pieper (cmjindra@hotmail.com)
Live Auction Co-Chairs - Jake Herre  (jacobherre@yahoo.com) or Niki Herre (nikiherre@yahoo.com)
Other questions about the Knight Event? Contact our Knight Event Planning Committee Chairs, Matt and Melanie Mueller at knightevent@berganknights.org.
Have a donation, but need a 2023 Donation Form? Download one here.
Schedule of Events
30th Annual Knight Event
Friday, November 17, 2023

5:30PM: Doors Open
6:00PM: Social Hour
7:15PM: Event Welcome
7:30PM: Live Auction Starts
8:30PM: Instabuy, Select A Spirit, Silent & Super Silent Auction all close
---
Sponsorship Levels ---
29TH ANNUAL KNIGHT EVENT UNDERWRITERS & DONORS
GOLD
SILVER
Allied Appliance & Sendgraff Family
Bixby Financial Service, Inc.
First Community Bank
FNBO
Gene Steffy's Chrysler Center, Inc.
Pinnacle Bank
Sid Dillon Fremont
NAPA/Cappel Auto Supply, Inc
Taylor & Martin, Inc.
Victor Outdoor Advertising
Walnut Radio/KHUB/KFMT/KBLR
Charlie ('55) & Mary Lou Diers
Dan ('76) & Kathy (Warne '78) Wiesen
Patrick Hoesing ('80)
BRONZE
Brainard Chiropractic
Butler Ag Equipment
Christensen Lumber Co.
Erickson & Brooks, CPA's
Lloyd & Betty Brooks
Monty & Lynnette Sellon
GREEN
Don Peterson & Assoc
Eco Water Systems
Emanuel Printing
Jayhawk Boxes
Methodist Fremont Health
Skin Envy, Deb Baker
Wiechman Pig Co.
Tad & Lynn Dinkins
Jerry & Doreen Fullington
Jason & Meghan House
Dr. Mark ('81) & Lisa (Hunke '86) Mendlik
John & Christina Prauner