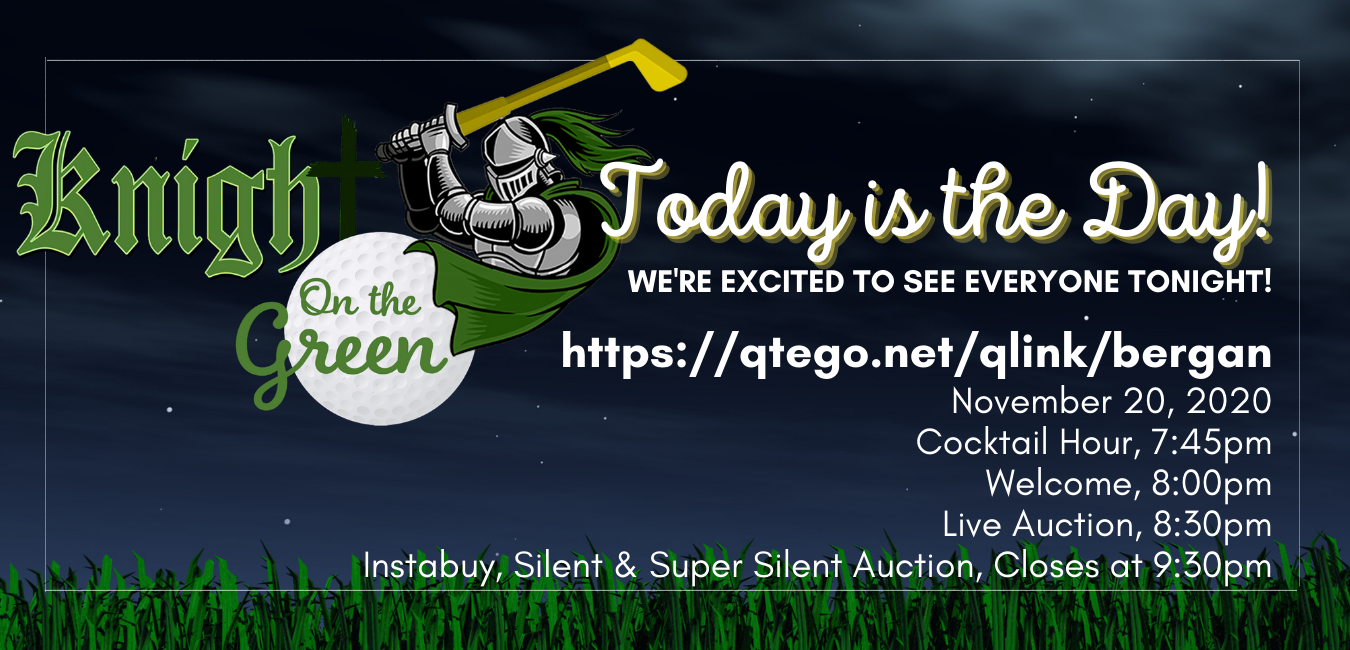 CLICK THIS LINK https://qtego.net/qlink/bergan TO JOIN THE VIRTUAL EVENT!! 
A strong Catholic school system helps to mold well-educated, spiritually strong, and loyal community-oriented individuals.  As we all know, the education of our children is one of the most important aspects of creating a great community.  While we are aware that everyone has been impacted differently due to the Covid-19 pandemic we hope that you will consider sharing in the growth and expansion of Archbishop Bergan Catholic School to benefit Fremont.  

We invite you to participate in the development of our 27th Annual Knight Event, A Knight on the Green, the largest fundraiser for our school, which will be held on Friday, November 20, 2020.  While things may look a bit different, we are excited to host our event virtually this year. We are committed to making this event safe and exciting as well as successful. By donating an item, or money to help purchase an auction item, you will be recognized in our auction materials, which reach approximately 450 bidders for this popular event. This donation is also tax deductible.
Please note the Evening Event Times have changed as our Fighting Knights are competing and hosting the State Championship Football Game at Heedum Field at 3:15pm!
Join Virtually, 7:45pm
Instabuy, Select A Spirit, Silent & Super Silent Auction, Closes at 9:30pm
Welcome, 8:00pm
Live Auction, 8:30pm
27TH ANNUAL KNIGHT EVENT UNDERWRITERS & DONORS
GOLD
SILVER
Hoegemeyer Family Foundation
First State Bank & Trust Company
Gene Steffy Chrysler Dodge Jeep & Ram 
Charlie ('55) & Mary Lou Diers
BRONZE
Butler Ag Equipment
Christensen Lumber Co.
Erickson & Brooks, CPA's
Lloyd & Betty Brooks
Dr. Brett & Kris Fischer
Dr. Monty & Lynette Sellon
WholeStone Farms
Knights of Columbus Phil Sheridan Council #1497
Moser Memorial Chapel, Funeral & Cremation Services
Dan ('76) & Kathy Warne ('78) Wiesen
Dr. Tom & Misti Wolf
Mark Prince
GREEN
Mike Guilliatt
Jeff & Laurie Forsberg
Jerry & Doreen Fullington
Jason & Megan House
Tad & Lynn Dinkins
Larry & Elaine Moore
Janet Brabec
INSPRO
Tommy's Express Car Wash
Don Peterson & Associates
Jayhawk Boxes
Lou's Sporting Goods
Rich & Carol McGill
Jim & Betty Feldhus
Bob & Linda Bendig
Mr. & Mrs. L.A. Schmid
Hurst Lawn Service
Chris & Stacey Lichtenberg
Wes & Linda Stahlecker
FBG
Jim & Christy Conrad
Eco Water Systems
US Bank