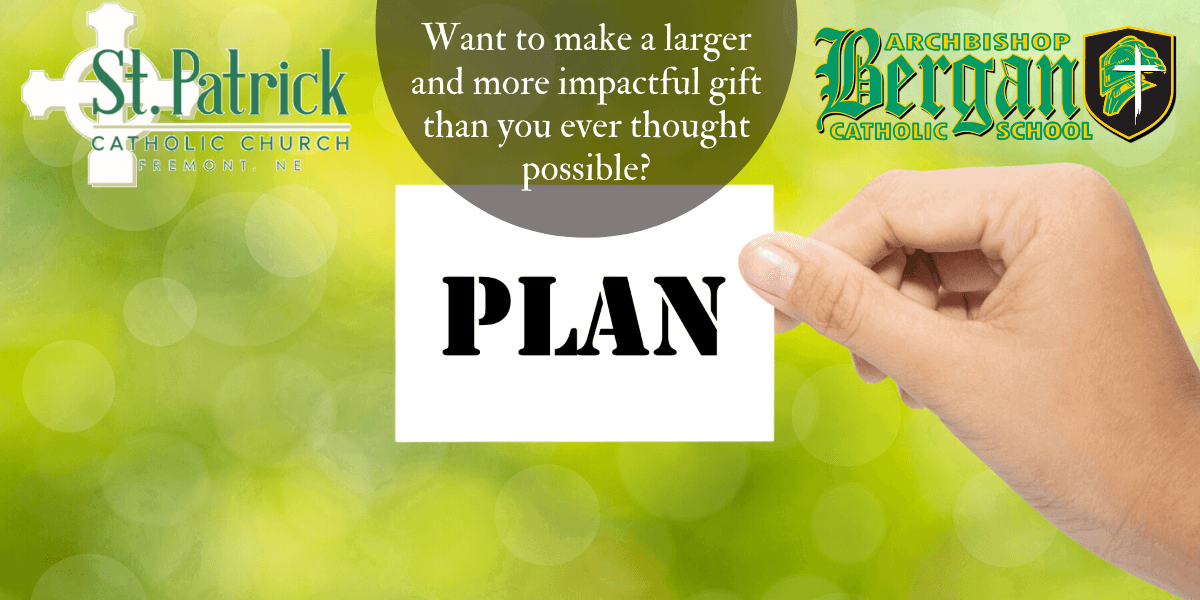 The Codicil Club
An investment in the future
In our continuing effort to publicly recognize and honor those who have remembered St. Patrick Parish and/or Archbishop Bergan Catholic School through estate related gifts, a special membership is provided for you.
THE CODICIL CLUB
The Codicil Club is composed of individuals who have provided for St. Patrick Parish or Archbishop Bergan Catholic School in their estate plan.  These are special people who are dedicated to a better future for their church and school for years to come.
In providing bequests or establishing trusts, you are always encouraged to use an attorney or other financial advisor. The Advancement Office of the Parish and School welcomes the opportunity to work with you and your advisor in planning your gift. 
Membership
Membership is offered to those who include St. Patrick Parish or Archbishop Bergan Catholic School in any of the following ways:
Inclusion of the church or school in a will or in a codicil to a will as a beneficiary or contingent beneficiary.
Enter into an agreement with the church or school to purchase a Gift Annuity, an Annuity Trust, Unitrust or other form of a life income contract. 
Include the church or school as a beneficiary or contingent beneficiary in a life insurance policy or make the church or school the owner of a life insurance policy.
Donor Benefits
Codicil Club members are remembered at a Mass each month.
An annual banquet is held each year for all members and prospective members.
The satisfaction that you are providing financial support for the parish/school for years to come.
Donor Recognition
The name of the individual or family is inscribed in the Codicil Club Memory Book which is on display in the church.
An inscribed plaque is presented to the donors.
Email Nichole Owsley, Director of Operations to receive a digital enrollment form for the Codicil Club.  
Join the
Bergan

Family!

Archbishop Bergan has a differentiated curriculum that promotes creative and critical thinking skills, increases student self-esteem and enhances a passion for Faith, Knowledge and Service.
We recognize the individual learning styles and abilities of each student!