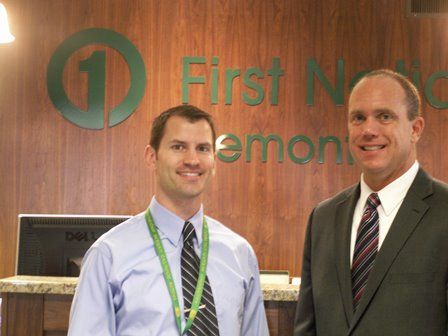 FOR IMMEDIATE RELEASE
Contact: Bonnie Nebuda, Director of Advancement
Telephone: 402-721-1846
Email: bonnie.nebuda@berganknights.org
Date: April 10, 2014
LOCAL BANK TO DEMONSTRATE ITS COMMUNITY BANKING ROOTS
Although First National Bank Fremont is newly branded, their local support will not waiver. Archbishop Bergan officials received word that First National Bank Fremont, formerly Fremont National Bank will support the Bergan Annual Appeal. The Bergan Annual Appeal is designed to assist with making vital educational processes and materials available to further benefit the students of Archbishop Bergan Catholic School. This year's funds are budgeted for upgrading technology infrastructure, along with increasing technologies used during classroom instruction.
"Our Bank truly appreciates the long-term relationship we have with Archbishop Bergan and St. Patrick's Catholic Church. First National Bank Fremont believes in supporting and giving back to our community. We value the education of Fremont's youth and we are glad to help with this project," said Barry Benson, Market President of First National Bank Fremont.
It has been estimated that Archbishop Bergan creates over $5 million in regional economic benefits annually. Likewise, Archbishop Bergan has greatly benefited from the support of the Fremont community and the surrounding area. "Due to the support received from our remarkable networks of alumni, businesses and parish members, we are able to complete a very successful 2012 – 2013 academic year," said Principal, Dan Koenig. Recent contributions to Archbishop Bergan have allowed for the purchase of the Plato Learning Environment® subscription which provides for elective online high school and college courses; thus expanding higher education opportunities for our students.
###
If you would like more information on this topic or to schedule an interview with Mr. Dan Koenig, please call 402-721-9683 or email dan.koenig@berganknights.org; or Mr. Barry Benson, please call 402-721-1050 or email bbenson@fnni.com.