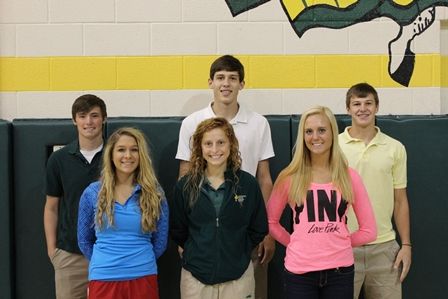 FOR IMMEDIATE RELEASE
Contact: Bonnie Nebuda, Director of Advancement
Telephone: 402-721-1846
Email: bonnie.nebuda@berganknights.org
Date: September 16, 2014
ARCHBISHOP BERGAN CATHOLIC SCHOOL ANNOUNCES HOMECOMING ROYALTY CANDIDATES
Homecoming Week 2014 is Underway!
Archbishop Bergan Catholic School announces the 2014 Homecoming candidates. Queen candidates are Megan Engel daughter of Jeff and Sue Engel, Emma Getzfrid daughter of Steve and Wendy Getzfrid, and McKenna Hotovy daughter of Steve and Becky Hotovy. King candidates are Adam Dykman son of Dave Dykman and the late Julie Dykman, Trey Mendlik son of Dave and Jill Mendlik, and Brian Wilmes son of Jeff and Beth Wilmes.
Archbishop Bergan Catholic School will celebrate the remainder of the week with the following activities:
Tuesday, September 16th – Dress Theme: U.S.A.
Wednesday, September 17th – Dress Theme: Pajama Day
Thursday, September 18th – Dress Theme: Beach Day
4:30 p.m. Cross Country Varsity Invitational at Bennington High School
7:00 p.m. Volleyball Varsity Game vs. Douglas County West at Archbishop Bergan Catholic School (Parent's Night)
Friday, September 19th – Dress Theme: Bergan Spirit Day
2:45 p.m. Homecoming Pep Rally at Archbishop Bergan Catholic High School
7:00 p.m. Football Varsity Game vs. Elmwood Murdock at Archbishop Bergan Catholic School – Fremont Memorial Stadium
Saturday, September 20th
9:00 p.m. Homecoming Coronation & Dance at St. Patrick's Auditorium, doors open at 9:00 p.m., Coronation begins at 9:30 p.m. with Dance after Coronation, Doors close at 10:15 p.m.
Parents and Bergan supporters are welcome to attend any of the Homecoming week activities. If you visit during the school day, please be sure to check in at the Student Services Office.
###
If you would like more information on this topic or to schedule an interview with Mr. Dan Koenig, please call 402-721-9683 or email him dan.koenig@berganknights.org.