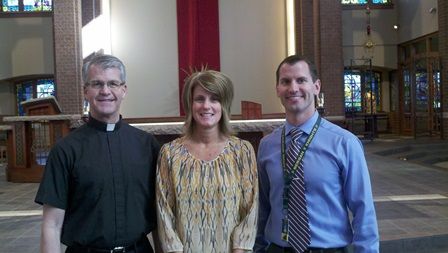 FOR IMMEDIATE RELEASE
Contact: Bonnie Nebuda, Director of Advancement
Telephone: 402-721-1846
Email: bonnie.nebuda@berganknights.org
Date: April 2, 2015
DIECKMANN AWARDED 2015 SECONDARY EDUCATOR OF THE YEAR
On Wednesday, April 2, 2015 Mrs. Kim Dieckmann was announced as the 2015 Archdiocese of Omaha Secondary Educator of the Year. Mrs. Dieckmann is the epitome of Catholic Education, currently serving as the Middle School Language Arts and 8th Grade Theology instructor. As a Bergan Alumnae, she has 21 years of teaching experience. Thirteen of those years were spent teaching in Public School and the last eight years have been at Archbishop Bergan Catholic School.
The Educator of the Year Awards are presented annually to Administrators, Secondary Teachers, and Elementary Teachers in both metropolitan and rural schools of the Archdiocese of Omaha. These awards highlight the excellent work of educators in the Archdiocese of Omaha, recognize the extraordinary dedication and professionalism of those who educate children in an atmosphere of love and respect, encourage educators to continue their service to our schools, and thank educators who serve our children. Awards are presented at the Archbishop's Dinner for Education on Thursday, September 17, 2015.
An Archdiocesan Honoree Selection Committee, based on the following qualifications, selects honorees. Service: At least five years of continues service in an Archdiocesan school and must be returning for the 2015-2016 school year. Dedication: Strong personal commitment to Catholic education; service above and beyond the ordinary; a clear, integrated philosophy of Catholic education. Professionalism: Evidence of life-long learning; mentoring experience, willingness, and ability to adapt teaching techniques to meet the needs of students; held in high regard by peers, students, and parents. Each nomination is to be accompanied by a minimum of three letters of recommendation signed by parents, colleagues, school board members, pastors or principals.
###
If you would like more information on this topic or to schedule an interview with Mrs. Kim Dieckmann, please call 402-721-9683 or email her kim.dieckmann@berganknights.org.