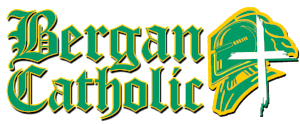 FOR IMMEDIATE RELEASE
Contact: Bonnie Nebuda, Director of Advancement
Telephone: 402-721-1846
Email: bonnie.nebuda@berganknights.org
Date: April 13, 2017
ARCHBISHOP BERGAN CATHOLIC SCHOOL ANNOUNCES NEW STAFF HIRES
Two New Faculty Members to Join Archbishop Bergan in the fall.
Archbishop Bergan Catholic School would like to announce the hiring of two new staff members for the 2017-2018 school year.
Mrs. Angie Kempf will be moving from teaching Fifth and Sixth grade language arts and will be teaching Fourth grade alongside Mrs. Amy Sund. This left Archbishop Bergan Elementary with two Fifth and Sixth grade teaching positions to fill.
Deanna Rogers has accepted the responsibilities of teaching Fifth and Sixth grade language arts. Mrs. Rogers is an alumnus of Archbishop Bergan High School and a 2006 graduate of the University of Nebraska-Omaha. Deanna also holds a Master's of Science in Curriculum and Instruction from Doane College. She brings a wealth of teaching experience from teaching with the U.S. Department of Defense Schools, Omaha Public Schools and her most recent position of teaching at Johnson Crossing Academic Center with the Fremont Public Schools. "We are excited to welcome Mrs. Deanna Rogers as our new Fifth and Sixth grade teacher. Her passion for the Catholic faith, teaching experience and love of a family environment models what we hope to provide for our students at Bergan Elementary. She will be a great asset for our students and enhance the already successful academic program at Bergan Elementary," said Principal, Dan Koenig. Deanna and her husband Brock, a 1998 Bergan graduate, have two children, Greeley and Grady.
Maggie Getzfrid has been hired as the Fifth and Sixth grade Math and Social Studies instructor. Ms. Getzfrid is currently finishing her student teaching at Heritage Elementary with the Bennington Public Schools. She will graduate in May 2017 from the University of Nebraska-Omaha with a degree in Middle Level Education focusing on Math and Social Studies. "We at Archbishop Bergan Catholic are excited to announce the hiring of Ms. Maggie Getzfrid. Maggie brings faith, energy, professionalism, content knowledge, and work ethic that will serve us Bergan Elementary well. Her experiences and attitude are just what our Fifth and Sixth grade students need to continue to move our school family in a positive direction," said Mr. Dan Koenig, Principal.
Maggie's is no stranger to Archbishop Bergan as her sister Emma, and two of her aunts are graduates of Archbishop Bergan Catholic.
###
If you would like more information on this topic or to schedule an interview with Mr. Dan Koenig, please call 402-721-9683 or email him dan.koenig@berganknights.org.