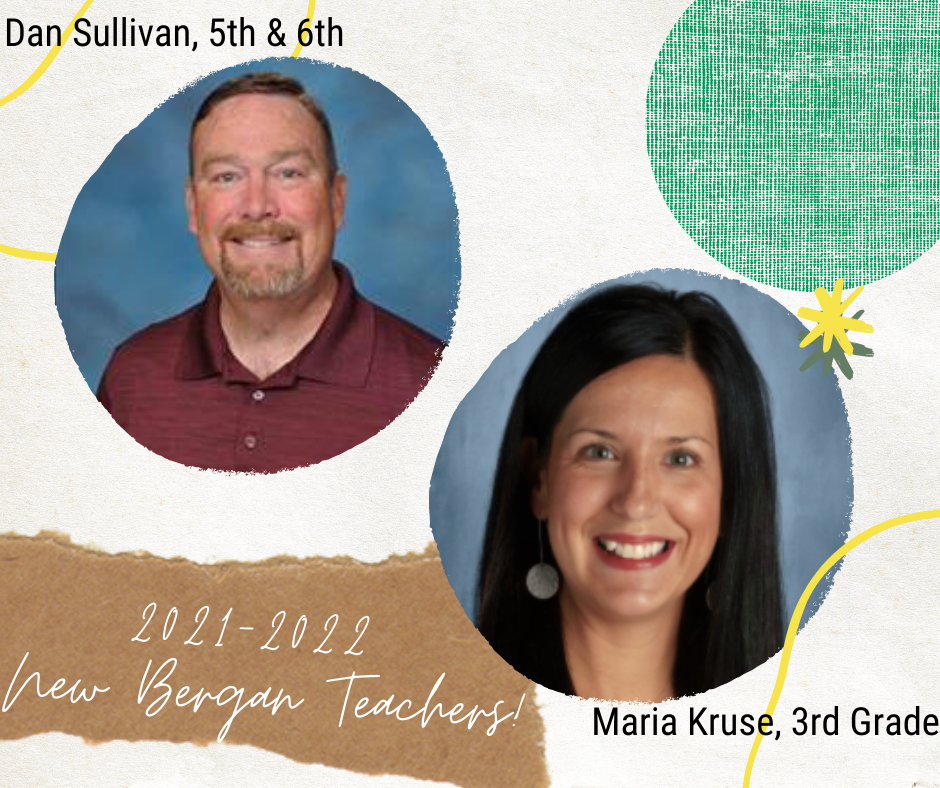 NEW HIRE ANNOUNCEMENTS FOR ARCHBISHOP BERGAN CATHOLIC SCHOOL
New Teachers For The 2021-22 School Year
Archbishop Bergan Catholic School is very fortunate to employ such a talented and dedicated teaching staff at Bergan Early Childhood Center, Bergan Elementary & Bergan Middle/High School.  Due to recent events, operating a school system and conducting daily in person classroom education has been a challenging undertaking.  We are proud to announce that after a very difficult past 13 months of educating during a pandemic, Archbishop Bergan Catholic will return 34 full time, certified educators for the 2021-2022 school year.
We have two departures from our teaching staff for the 2021-2022 school year.  Mrs. Cindy Nielsen has chosen to retire from teaching after a career that included 44 years in education with the last 9 years teaching at Bergan Elementary.  Mrs. Nielsen may be observed substitute teaching from time to time at Bergan Elementary into the future.  Ms. Caiti Parsons has also decided to leave Bergan Elementary as she will be moving with her husband to the San Diego area.  This left Bergan Elementary with a third grade along with a 5th & 6th grades teaching position to fill for the 2021-2022 school year.
Maria Kruse has accepted the position of 3rd Grade instructor at Bergan Elementary.  Maria has teaching experience in the Archdiocese of Denver at Our Lady of Loreto & Saint Stephen Catholic Schools along with teaching 3rd Grade in the Papillion-LaVista School District at Carriage Hill Elementary.  Her most recent teaching assignment has been with the Archdiocese of Omaha at Saint Margaret Mary Catholic teaching 3rd Grade as well.  Mrs. Kruse holds a Bachelor's of Science Degree in Elementary Education from the University of Nebraska-Lincoln.  Maria and her husband Chad have three children who will be attending Bergan next school year.  Their daughter Claire will be a Kindergartener, son Gavin will be in 5th Grade & oldest son Alex will be a Freshman at Bergan High School next fall.  "We at Bergan Elementary are eager to welcome Maria Kruse into our educational family.  Maria is not afraid to live her Catholic faith out loud and we know that she will bring that same enthusiasm into educating her students to be disciples of Jesus Christ daily.  By exemplifying faith, hope and love in her classroom, she will allow our students to become extraordinary Bergan Knights."  Dan Koenig, Principal  Please assist me in giving Maria Kruse and her family a warm welcome to the Bergan family.
In hiring a teacher for our 5th & 6th Grade model at Bergan Elementary, we did not have to look too far for an instructor for this position.  Mr. Dan Sullivan has been offered and accepted a 5th & 6th Grade teaching position at Bergan Elementary.  Dan has a wealth of teaching experience with ten years of middle school classroom instruction in Virginia.  Dan also taught & coached at the collegiate level for 10 years at Midland University in Fremont.  Recently, Dan has been assisting students reach their full potential as a Para educator at Bergan Elementary.  Mr. Sullivan has a Master's Degree in Education from William Woods University along with a Bachelor's Education from James Madison University.  Dan & his wife Rebecca are no strangers to Bergan as they have two sons, Connor who is an 7th grader and Jack who is a 3rd grader this school year enrolled at Bergan.  "We are excited about the potential that Dan Sullivan brings to Bergan Elementary.  In his interview he spoke about his desire to remain working in a Catholic school along with the admiration he has for the work that our current teachers conduct at Bergan Elementary.  I know that he will be a calm presence for our 5th & 6th grade students and I look forward to the knowledge and guidance that students will receive from his classroom instruction."  Dan Koenig, Principal Please assist me in congratulating Mr. Dan Sullivan on his full time teaching appointment at Bergan Elementary.