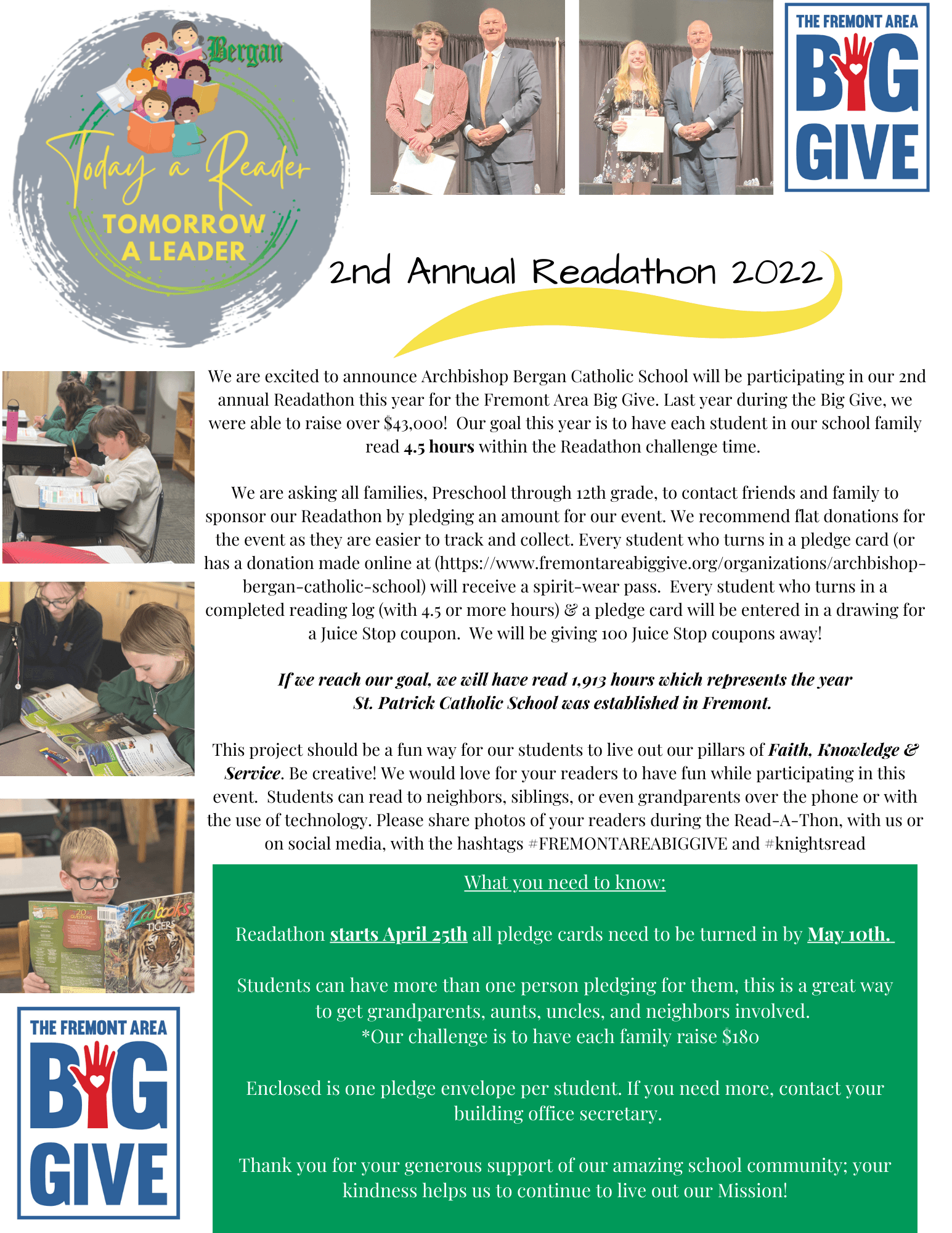 We are excited to announce Archbishop Bergan Catholic School will be participating in our 2nd  annual Readathon this year for the Fremont Area Big Give. Last year during the Big Give, we were able to raise over $43,000! Our goal this year is to have each student in our school family read 4.5 hours within the Readathon challenge time. We are asking all families, Preschool through 12th grade, to contact friends and family to sponsor our Readathon by pledging an amount for our event. We recommend flat donations for the event as they are easier to track and collect. All dollars raised will go to support the literacy needs Preschool-12th Grade.
Every student who turns in a pledge card (or has a donation made online at (https://www.fremontareabiggive.org/organizations/archbishop-bergan-catholic-school) will receive a spirit-wear pass. Every student who turns in a completed reading log (with 4.5 or more hours) & a pledge card will be entered in a drawing for a Juice Stop coupon. We will be giving 100 Juice Stop coupons away!
If we reach our goal, we will have read 1,913 hours which represents the year St. Patrick Catholic School was established in Fremont.
This project should be a fun way for our students to live out our pillars of Faith, Knowledge & Service. Be creative! We would love for your readers to have fun while participating in this event. Students can read to neighbors, siblings, or even grandparents over the phone or with the use of technology. Please share photos of your readers during the Read-A-Thon, with us or on social media, with the hashtags #FREMONTAREABIGGIVE and #knightsread