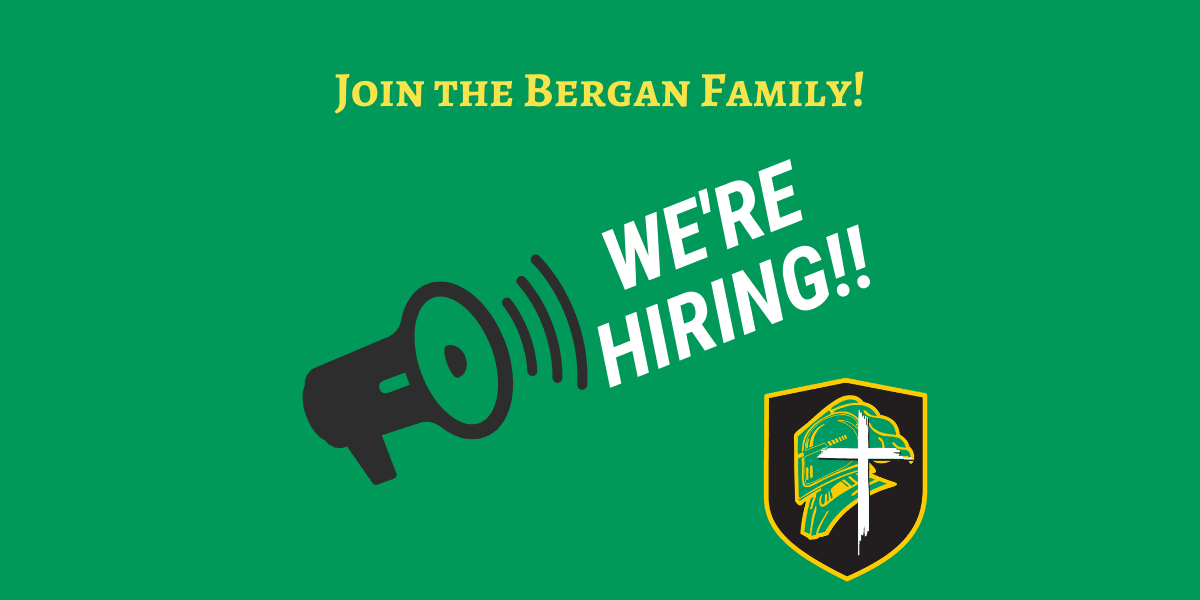 Career Opportunities
Passion. That's the common attribute of those that work for our school. We are dedicated to helping the students and families we serve. If you're ready to make a difference, browse our openings or upload your resume and tell us your interests.
2022-2023 School Year Positions
Grade K-6 Physical Educator Teacher
DEPARTMENT: Certified Staff
REPORTS TO: Elementary Principal
EFFECTIVE DATE: 23/24 Academic Year
POSITION STATUS: Salaried; Full-time 
Position Summary: 
The ideal candidate will support the school's mission to instill passion, as exemplified by Christ for Faith, Knowledge, and Service.  Additional extra-curricular opportunities may be available.  
How to Apply:
Please send a letter of application, resume, and credentials to:  Lori McIntyre, Assistant Principal, Archbishop Bergan Catholic Elementary School, 1515 Johnson Road, Fremont, NE 68025 or call 402-721-9766 or email: lori.mcintyre@berganknights.org.  Applications will be accepted through 2/27/23
Director of Marketing & Events 
DEPARTMENT: Advancement 
REPORTS TO: Director of Operations 
EFFECTIVE DATE: Jan 19, 2023 
POSITION STATUS: Salaried; Full-time 
Position Summary: 
The Director of Marketing is responsible for managing all marketing operations for Archbishop Bergan Catholic School and the ECEC. This includes the development, planning, and execution of various marketing programs and advertising initiatives in support of the organization's growth goals and reputation. The Director of Marketing interprets business objectives and develops successful marketing campaigns from idea to execution. They also ensure that the organization's message is clearly defined and distributed across all channels and targeted audiences, as well as the coordination of the organization's marketing budget. 
Qualifications: Director of Marketing should hold a four-year degree; a very qualified individual would have experience in nonprofit marketing. The ability to work cooperatively with different personalities and people in a school environment is required. 
Responsibilities:
Liaison with various areas of the organization to ensure that the objectives and efforts of the marketing department are aligned with Archbishop Bergan Catholic school's goals. 
Administer the digital marketing program, including social media,l website, and email campaigns to ensure brand consistency. 
Manage marketing distribution channels including website, email, social media, and print. Manage online reputation and generates positive online reviews and respond to reviews. 
Design print ads, flyers, emails, and websites. 
Maximize website performance, track keyword rankings, and implement SEO strategies. 
In house liaison for fundraising events, including marketing plans and materials for these events. 
Requirements:
Highly collaborative and can develop and maintain healthy working relationships with staff members, and community members—undergraduate degree in Business or related discipline, or equivalent professional experience. 
Experience in not-for-profit operations or in the education industry is preferred. Exceptional knowledge of current marketing techniques and platforms. 
Able to prioritize work assignments for self and others; highly organized and able to manage multiple projects. 
Can be trusted with highly confidential matters. 
Strong Microsoft Office skills. 
HOURS OF WORK: The Director of Marketing will be required to work full-time hours and be available when activities are happening within the organization. Office setting will be split between all of our locations and the expectation is that time is spent between these buildings.
Resumes can be emailed to srhea@stpatsfremont.org.
---
Middle School/High School Kitchen Supervisor 
Reports to: Principal/President of the School General 
Summary: Supervises the food service program at an individual school. This is a full time position. 40hrs per week when school is in session, 30hrs per week in the summer. Average 32hrs per week. 
Essential Functions: 
Supervises, prepares and serves daily lunch service for the School. Provides leadership and direction for staff. Provides orientation and training to new employees. Coordinates, schedules and assigns work for food service staff. 
Prepares daily production records and other paperwork as required. 
Prepares, receives and verifies food/supply orders according to schedule. Submits orders through established ordering procedures. Performs periodic inventory of food/supplies. 
Serves prepared food to students. 
Cleans equipment used, including utensils, dishes, mixers, and machines. Performs general cleaning duties in kitchen. 
Works with students/parents/faculty and employees to ensure satisfaction in such areas as quality, service, and problem resolution, refer to Principal/School President if necessary. 
Able to react to change productively and handle other essential tasks as assigned. 
Be fiscally responsible in regards to ordering, preparing and serving food. 
Recognize equipment issues/malfunctions and notify maintenance. 
Summer duties to include daily preparation and food service to the Early Childhood Education Center students. 
Other duties as assigned or needed. 
Qualifications: 
Education Level: 

High school diploma or equivalent 

Certification or Licensure: 

State certificate in school food service management recommended. Food Safety training required within 90 days of employment. 

Experience Desired: 

Prior Food Service Experience required 

Other Requirements: 

Ability to prepare and maintain necessary records 
Ability to instruct, train, supervise and discipline employees 
Ability to Interact with students effectively 
Ability to communicate effectively with staff and students. 
Strong Organizational skills
Resumes can be emailed to srhea@stpatsfremont.org.
---
Middle/High School Lunch Program Assistant Opening
Archbishop Bergan Catholic School, in Fremont, NE is accepting applications for a Part-Time Middle/High School Lunch Assistant to begin in December 2022. The ideal candidate will support the school's mission to instill passion, as exemplified by Christ for Faith, Knowledge, and Service. This position will be housed out of the St. Patrick Auditorium serving Middle/High School students throughout the school year. To be considered for this position call 402-721-9683 and ask for Dan Koenig or email: dan.koenig@berganknights.org. 
---
Maintenance Technician
Please email your resume to Stephanie Rhea at srhea@stpatsfremont.org or call 402-721-6611 x20 for more information.
Full Time 
Monday-Friday 
7 a.m. to 3 p.m. with some nights or weekends as needed.
We are hiring 2-3 full-time Maintenance Technicians to perform various maintenance and custodial tasks for multiple buildings on our campuses.  This will include our Churches (St. Patrick Fremont, St. Rose of Lima and St. Lawrence), Rectory, Parish Office, Archbishop Middle School/High School and Elementary School and others.  This role will work to ensure the facilities are available for use and consistently maintained in a safe and clean condition.  General schedule will be Monday through Friday with some evenings and weekends required.  Knowledge of electrical, plumbing, and HVAC is desired but we are willing to train the right candidate.  Duties to include, but not limited to, routine mechanical maintenance tasks as well as general custodial, carpentry, painting, and facilitating set up and tear down for various Church and School events. As well as other duties as assigned.
Requirements
Enthusiastic worker with an openness and desire to learn new skills.
Flexibility in responding to day-to-day work requirements and a varied work schedule or assignments.
Ability to follow policy and safety procedures.
Ability to work with a team or independently with little direct supervision.
Ability to lift, push, pull and carry items up to 50 lbs. regularly.
Troubleshooting, applying appropriate solutions, and following though to ensure completeness of work.
Previous experience working maintenance, electrical, or plumbing.
Education/Experience
High School Diploma or Equivalent.
Must be Safe Environment Certified and background check completed through the Archdiocese of Omaha
Commitment to excellent service and teamwork.
1-3 years Maintenance or related experience is desired.
---
---
Openings in the Early Childhood Education Center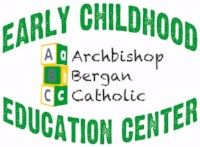 Archbishop Bergan Catholic Early Childhood Education Center is located at 450 E 4th Street on Bergan's Downtown Campus on the corner of 4th & Union streets, in what used to be known as the St. Patrick's Community Center.
The ECEC provides loving, faith based childcare for students who are 3 years old and potty trained through 12 years old.
Join the
Bergan

Family!

Archbishop Bergan has a differentiated curriculum that promotes creative and critical thinking skills, increases student self-esteem and enhances a passion for Faith, Knowledge and Service.
We recognize the individual learning styles and abilities of each student!