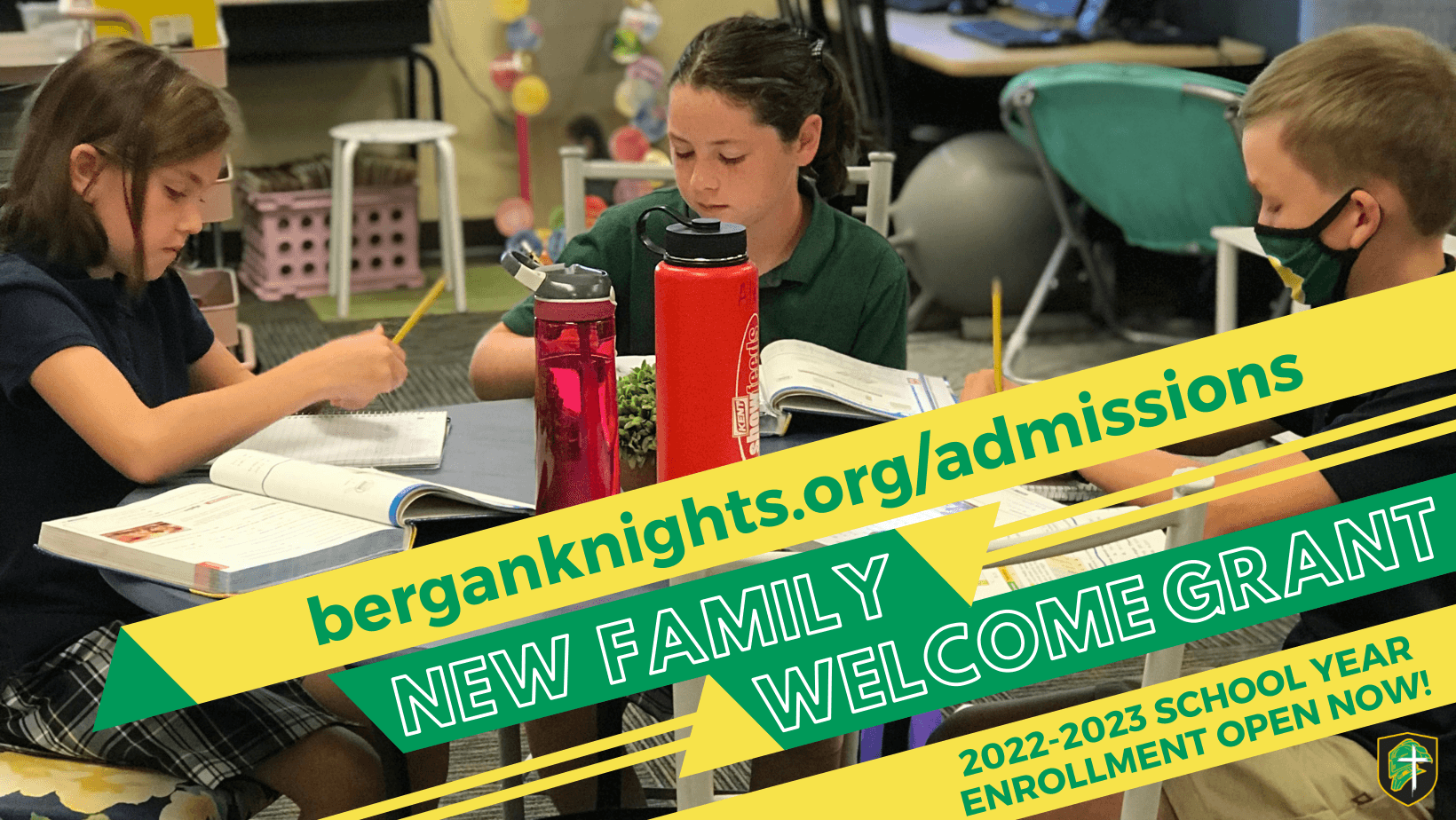 Tuition & Affordability
Here's why an Archbishop Bergan education is more affordable than you think!
We understand that sending a student to Archbishop Bergan is a financial investment for a family.  Private schools must charge tuition; we are no exception. At Archbishop Bergan we believe in high-quality faculty and excellent programs. We believe that we need to provide the little extras that truly make us an exceptional school. We also realize that this raises the cost, but at the same time we know that the cost is worth it. This means that we must find ways to make it affordable for every family. Realizing the financial commitment of a private education, Archbishop Bergan provides tuition assistance to qualifying families in Kindergarten - 12th grade. 
The goal is to make Archbishop Bergan an affordable educational experience for families wishing to receive an exceptional Catholic education.
NEW FAMILY WELCOME GRANT!  Get up to 15% off your first year of tuition!  (Valid February 15-June 30, 2022.)  Ask the Bergan Advancement Team for details, 402-721-1846.  Schedule a tour!  Schedule a Buddy Day!
THE COST TO EDUCATE A STUDENT AT ARCHBISHOP BERGAN CATHOLIC SCHOOL IS $10,685 FOR HIGH SCHOOL AND $8,055 FOR ELEMENTARY!
Tuition Information & Assistance
Our tuition rates have been dramatically reduced from the actual cost to educate because fundraising efforts of the Bergan Fund and Knight Event and the parishioners of St. Patrick Catholic Church have made a commitment to making the cost of education more affordable to all students by subsidizing a large portion of each student's tuition cost.
2022-2023 Tuition Rates
9th - 12th Grade                  $5,950
7th - 8th Grade                    $5,250
5th - 6th Grade                    $4,750
Kindergarten - 4th Grade    $4,150
Pre-Kindergarten                $2,500
Preschool                           $1,290
*Ask about the Family Discount Rate for families with three or more children in grades K-12.
Payment Plans - Choose the payment plan that works for you. A tuition payment plan must be selected when new students apply to Archbishop Bergan Catholic School or when current students re-enroll during the Open Enrollment Period (January – March).
The standard family enrollment fee of $200.00 must accompany the contract by March 1st.
Option #1 – Annual Payment Plan: Tuition is paid in full by July.
Option #2 – Semester Plan: Tuition is paid in July & January. 
Option #3 – Quarterly Plan: Tuition is paid in July, October, January and April.
Option #4 – Monthly Plan: Tuition is paid over a 12-month period from July-June. 
FACTS, a NelNet Company, allows payments to be scheduled for each payment plan that works with every family's budget. This is the school's required method for ALL payments plans. You have the option of paying with checking, savings, or credit/debit card when using FACTS.
FACTS does charge an annual processing fee that will be added to your total tuition based on the payment plan you select. Monthly and quarterly payment plan fee is $43.00, semester payment plan fee is $10.00 and annual payment plans do not have an additional FACTS fee.
Delinquent Tuition Accounts - If a family is unable to meet its financial obligations, the matter must be discussed promptly with the Finance Department.
 In the event a family becomes more than 60 days delinquent, report cards will be held until the account is made current.
 Re-enrollment will not be accepted for any student whose tuition account is not current.
 Enrollment fees are considered not-refundable unless we are not able to place the student, or a family relocates out of the area prior to the beginning of the school year.
 Upon acceptance of a student and execution of a tuition contract, the full year's tuition shall be considered payable and nonrefundable.  If a student should leave for any reason during the school year, other than moving of the of the area, we may at our discretion refund tuition.
Applying for Tuition Assistance.
Children's Scholarship Fund of Omaha for families with students in grades K-8.
The Children's Scholarship Fund of Omaha's mission is to provide scholarship assistance for qualifying families so their children may attend a private or parochial elementary school of their choice.
To be considered for a CSF scholarship you must be entering school for the required academic year, and your total family income must fall within the eligibility scale. Once you've applied and been accepted (not all applications are accepted), you will agree to adhere to CSF's scholarship requirements.
Qualified families will be expected to adhere to the following:
 Each child receiving a scholarship must have an attendance rate of at least 90%
 Your family must pay a minimum of $500 towards each child's tuition.
 Physically enter your child's school twice each year (once in November, once in April) to sign CSF paperwork
 Your child must comply with school standards. If expelled, your child will not be eligible for scholarship renewal
 You must fill out requalification paperwork each year to verify continued financial eligibility
 Agree to make your child's academic information accessible (e.g. test scores) for CSF program assessment.
Archdiocese of Omaha High School Assistance Funding for families with students in grades 9-12.
The office of Stewardship & Development coordinates the Archdiocese High School Scholarships to provide tuition assistance for children throughout the Archdiocese. Interested families should contact the school business office to determine edibility. The TAP program is funded by donors who support the Archbishop's Annual Appeal (AAA), the Catholic Futures Foundation of Northeast Nebraska (CFF), and private scholarships administered by the Archdiocese of Omaha.
 Scholarships are for tuition costs only.
 Qualified families are expected to pay a minimum of $1,000 of the tuition costs per year.
St. Patrick Catholic Church/Archbishop Bergan Catholic School Tuition Assistance Application
Tuition Assistance is awarded based on need and the amount of funds available. Tuition assistance funds vary from year to year and the funds are limited. Early application is encouraged. The Finance Office will notify families of tuition assistance awarded. All amounts will be credited directly to the family's account. Families who receive the Archbishop Bergan Catholic School Tuition Assistance must sign the Acceptance Agreement before the funds will be credited to your account.
       Qualified families are expected to adhere to the following:
 Students will maintain average to above average grades and maintain superior behavior in the classroom
 Send a Thank you letter/note to the St. Patrick Stewardship & Development Office to be shared with donors
 Maintain assigned payment amounts and acknowledge that assistance will be re-applied for each year
To apply for the Archbishop Bergan Scholarship, you must first apply for the Children's Scholarship or Archdiocese of Omaha High School Assistance.  Then visit https://online.factsmgt.com/aid. There is a $35.00 processing fee due at the time of application. Applications open on February 1, 2022 and the deadline for applying is April 15, 2022. Email the Finance Office, Kristy Churchill, kchurchill@stpatsfremont.org with questions.
Mark and Rose Delaney Memorial Scholarship Fund
As of now, the fund will distribute (1) one scholarship in the amount of $500 to be applied towards the student's yearly tuition at the beginning of their school year.
To qualify for the scholarship, a student must fit within the following charitable class:
a.                  Be a current high school student at a high school institution at an accredited higher learning institution that is operated by the Omaha Archdiocese.
Selection of the scholarship recipient shall be made from the qualifying applicants of the above identified charitable class, based on the following criteria:
a.                  The recipient must show financial need.
b.                  Involvement in non-academic, extra-curricular activities.
c.                  Submission of the application by the deadline date.
d.                  Submission of a verification of the student's semester grades and continued enrollment.
e.                  The student, the student's immediate, and/or extended family has/had cancer affect their life.
Please know a PDF writeable scholarship application will be on our website by February 4th.  www.MidlandsCommunity.org
Archbishop Bergan Catholic School does not discriminate against the basis of race, color, disability, national or ethnic origin.