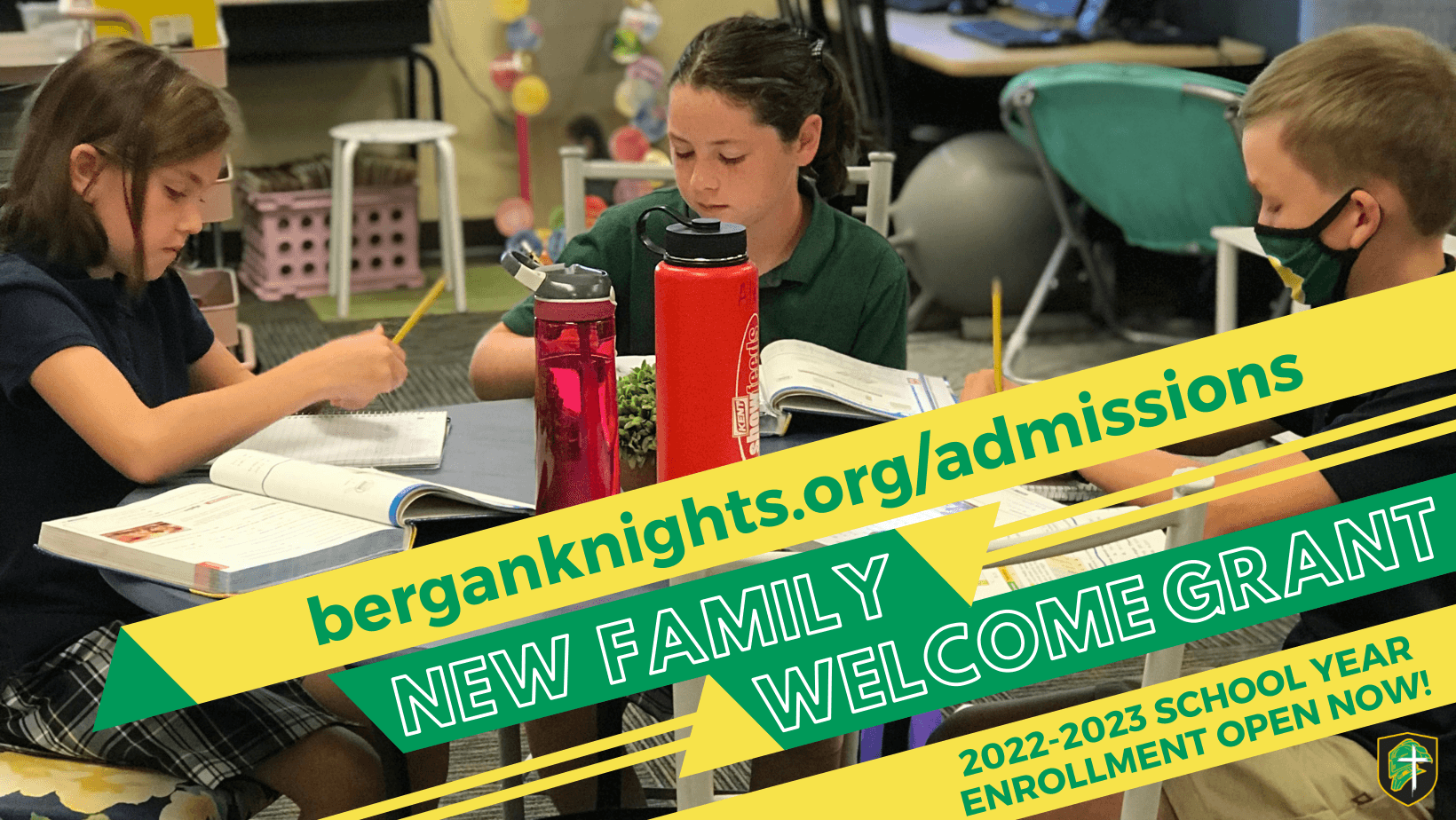 Tuition & Affordability
An Archbishop Bergan education is more affordable than you think!
We understand that sending a student to Archbishop Bergan is a financial investment for a family.  At Archbishop Bergan we believe in high-quality faculty and excellent programs. Realizing the financial commitment of a private education, Archbishop Bergan provides tuition assistance to qualifying families in Kindergarten - 12th grade. 
The goal is to make Archbishop Bergan an affordable educational experience for families wishing to receive an exceptional Catholic education.
NEW FAMILY WELCOME GRANT! 
Get up to 15% off your first year of tuition!  (*not valid with any other discount offer)  Ask the Bergan Advancement Team for details, 402-721-1846. 
Any current Bergan Family that refers a new family to attend Archbishop Bergan Catholic School will receive $1,000 off their tuition for each new, referred family regardless of the number of students in the new family. The new family (applicant) will also receive $1,000 off their first year's tuition for one student regardless of the number of students in their family. 
---
The cost to educate a student at Archbishop Bergan Catholic School is $10,685 for high school and $8,055 for elementary!
Tuition Information & Assistance
Our tuition rates have been dramatically reduced from the actual cost to educate because fundraising efforts of the Bergan Fund and Knight Event and the parishioners of St. Patrick Catholic Church have made a commitment to making the cost of education more affordable to all students by subsidizing a large portion of each student's tuition cost.
2023-2024 Tuition Rates
| | |
| --- | --- |
| 9th - 12th Grade | $6,250 |
| 7th - 8th Grade | $5,450 |
| 5th - 6th Grade | $4,950 |
| Kindergarten - 4th Grade | $4,275 |
| Pre-Kindergarten | $2,500 |
| Preschool Mon/Wed/Fri | $1,290 |
| Preschool Tue/Thur | $1,090 |
Multi-Family Discount - The Bergan Catholic Family Discount was created to help larger families keep the cost of tuition affordable. A family with three or more children enrolled in Kindergarten through 12th grade will be able to take advantage of reduced tuition rates. Families will pay 100% for the two oldest children enrolled, then a family will pay 25% for the third child. After the third child, families will not pay tuition on additional children enrolled. 
Payment Plans - Choose the payment plan that works for you. A tuition payment plan must be selected when new students apply to Archbishop Bergan Catholic School or when current students re-enroll during the Open Enrollment Period (January – March).
Applying for Tuition Assistance.
Children's Scholarship Fund of Omaha for families with students in grades K-8.
The Children's Scholarship Fund of Omaha's mission is to provide scholarship assistance for qualifying families so their children may attend a private or parochial elementary school of their choice. https://www.csfomaha.org/parents-family/how-to-apply.html
Archdiocese of Omaha High School Assistance Funding for families with students in grades 9-12.
The office of Stewardship & Development coordinates the Archdiocese High School Scholarships to provide tuition assistance for children throughout the Archdiocese. Interested families should contact the school business office to determine edibility.
St. Patrick Catholic Church/Archbishop Bergan Catholic School Tuition Assistance Application
Tuition Assistance is awarded based on need and the amount of funds available. Tuition assistance funds vary from year to year and the funds are limited. Early application is encouraged. Email the Finance Office, Kristy Churchill, kchurchill@stpatsfremont.org with questions.
Mark and Rose Delaney Memorial Scholarship Fund
As of now, the fund will distribute (1) one scholarship in the amount of $500 to be applied towards the student's yearly tuition at the beginning of their school year.
Please know a PDF writeable scholarship application will be on our website by February 4th.  www.MidlandsCommunity.org
Archbishop Bergan Catholic School does not discriminate against the basis of race, color, disability, national or ethnic origin.